In the wake of the Cambridge Analytica data scandal and the introduction of GDPR , Facebook is making big changes to the data targeting currently available to Facebook advertisers. If you currently advertise on Facebook the new changes could effect your existing ad campaigns and they will limit your targeting options in the future.
Currently, Facebook has access to data from their 'partners' and allows people to use this data to narrow down and better target their audience when setting up a Facebook ad campaign.
When creating an ad campaign on Facebook, you may have noticed that some "Detailed Targeting" options are referred to as "Partners Categories" in the "Source" section of their listing: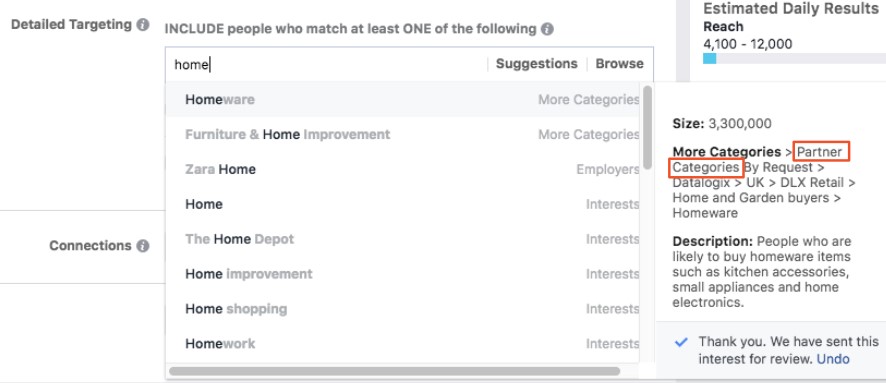 The Partner Categories are available using data from third party data companies such as Acxiom, Experian and Oracle Data Cloud, who collect data about people such as offline demographic and behavioural information like purchase history. Facebook matches the data to Facebook user profiles and then uses it to allow much more detailed targeting than Facebook has access to alone.
From May 11th 2018 Partner Categories for audiences based in France, Germany, and the UK will no longer be available for campaign creation, editing or duplication. If you already have ads running which use partner categories your ads will stop using them from May 24th 2018. From October 1st 2018 campaigns worldwide will stop delivering to Partner Categories.
So far, Facebook's use of partner categories hadn't been hitting the headlines, but amidst the current climate of distrust around potentially unlawful or unjustified use of data, and with GDPR coming into force in the UK on May 25th, it's clear this move represents a decision by Facebook to take action before coming under further scrutiny.
So how does this effect Facebook advertisers? Well, it will certainly limit your targeting options and audience refinement, with the changes meaning Facebook will only be offering targeting options based on people's actions, decisions and purchases whilst logged into Facebook. If you're not currently doing so, it would be worth exploring Facebook advertising options unaffected by Partner Categories. Facebook remarketing and dynamic ads allow accurate targeting of people who have shown an interest in your product by visiting your website whilst logged into Facebook. For help with any of your online advertising campaigns, get in touch.