Q Social Media Ltd
Q Social Media specialises in helping businesses make digital marketing work for them: boosting online presence, driving traffic, delivering leads and increasing sales. We have over 10 years experience in working with a diverse range of clients on their digital marketing and SEO strategies, managing Google and Social Media Ads to great effect.
As we use digital marketing to promote our own business we know the pitfalls many businesses find in keeping up to date and fully utilising digital marketing tools effectively. This gives us a good understanding of where businesses are coming from and the frustations they have. Due to our key specialism in Google Ads and Social Media Marketing (Facebook, Instagram, LinkedIn & Twitter) we're able to ensure digital marketing activities integrate smoothly into search engine optimisation (SEO).
Our experience in running many digital advertising campaigns for ourselves and our clients means we have developed extensive insight and knowledge as to how best to utilise these advertising platforms to full effect. We have a diverse range of clients across the B2B, B2C and non-profit making sectors that has allowed us to see what works well and not so well in each sector. As well as working with tourist destinations, wedding venues, charities and a range of B2B businesses, we have a rising number of ecommerce clients, effectively helping online retailers increase online sales through effective use of digital marketing.
Run by Chris Wood along with his team of social media and digital marketing specialists, Q Social Media combines technical expertise with a results-driven mind-set to provide effective and innovative digital marketing solutions to clients in Exeter, Devon and across the UK.
More On Chris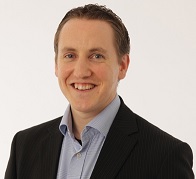 Hi – I'm Chris a social media and digital marketing specialist and director of Q Social Media. I oversee the management of clients that have outsourced their digital marketing activities to us to ensure they're being properly managed and that we're helping to meet the client's business objectives. Whether that be increasing website traffic, boosting online presence, increasing enquiries or sales.
I previously have over a decade of IT and technology experience from working in the City of London.  It was here that I was first introduced to instant messaging platforms that were used for internal communication purposes only, where we would have instant online chat conversations with project team members that were not in the same location (think of Twitter but for internal use only).   Since then I've been focusing on how technology can be used to market businesses online as it has become a keen interest of mine, in particular ecommerce.
I have worked with organisations of many different sizes, helping them to engage their customer base online. I've assisted organisations with whatever stage they are at with digital marketing, from kick-starting new users to helping more experienced organisations develop their strategy. I have helped them apply a variety of inbound marketing techniques, using tools such as social media, search engine optimisation, blogging and Google marketing apps – Ads, Analytics, Merchant Center & Search Console.
More On The Team
Marie – digital marketing manager – helps manage digital marketing campaigns to ensure they're running effectively and troubleshoots them when not to get them back on track. Marie also works on SEO and regularly blogs on behalf of some of our clients to help with content for social media and SEO purposes.
Jessica – digital marketing manager – manages the day to day management of clients' social media and digital marketing activities – Google & Facebook Ad campaigns, blogs, and SEO. More on Jessica & what we do here.