DIGITAL MARKETING & SOCIAL MEDIA TRAINING COURSE EXETER
Exeter 4th March (ticket sales end 2nd March)
Now Sold Out. We're next repeating the course on 21st October – places available.
WANTING TO INCREASE TRAFFIC TO YOUR WEBSITE, IMPROVE COMMUNICATIONS AND RAISE ONLINE PRESENCE?
Learn how to use social media and the Google marketing apps to increase website traffic, improve online communications and raise online presence for your business. You can either attend to hear on just one of the topics or both as they will run as separate courses on the same day. We will be providing top tips and straightforward advice, showing you how to: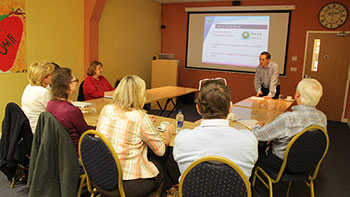 1. Make Social Media Work For You – Facebook, Twitter, LinkedIn
50% of the UK population are on social media, the majority using Facebook & Instagram, followed by Twitter, Pinterest and LinkedIn.These platforms are a great way to target your customer base and raise online presence. Learn how to:
Choose and use the tools that will connect you with your customers
Plan a social media strategy todeliver the maximum results for your business
Use tools efficiently – how to post simultaneously across multiple platforms
Integrate social media within your marketing mix
Measure what works
Get the best return from the time you put in
You will come away confident in your ability to use social media more efficiently and effectively.
---
2. Increase Website Traffic – Google Marketing Apps & Basics of Search Engine Optimisation
Google is the number one search engine, in the UK it has approx. 90% of the search engine market and in the world approx. 60% to 70% of the search engine market. Learn how to get more website hits via the Google Marketing Apps to:
Raise your Google profile – top tips on how to make your website more visible in the eyes of Google helping to get more website visitors
Be found more often by location listings – ideal for venues and service location based businesses (Google My Business)
Be found more often on page one via Google Advertising (pay per click advertising using Google Ads) – ideal for all businesses that want page one presence
List products on the Google shopping page – ideal for those selling products online
Measure what works and understand website visitor stats in Google Analytics
Find out why Google loves social media and how it helps Search Engine Optimisation (SEO)
You will come away confident in your ability to start raising your profile within Google.
'"Really enjoyed the course – clearly explained what otherwise can be a baffling topic" Andy Pringle – Director of Start Your Own Business
---
We help organisations of all sizes to get the most out of social media tools and the Google marketing apps (whether profit/non-profit based). Whether you are just getting started, or are looking to recap the basics & take your current online presence to the next level, these courses are for you.
If seeking intermediate to advanced training this we can provide onsite tailored to your requirements – contact us to further discuss.
Ideal for: Directors, Owners, Entrepreneurs, Business Development and Sales and Marketing professionals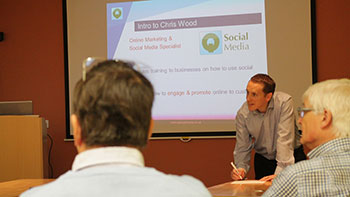 ---
Timing:
9.30am – 1pm – Make Social Media Work For You
1pm – 1.45 – Lunchbreak (lunch included)
1.45pm – 4.15pm – Increase Website Traffic (Google Overview)
Costs:
Book All Day Ticket and save 25%: £120 instead of £160 (+VAT)
Alternatively each Course is £80 + VAT – choose which course to book on via the tickets above.
Venue: Unit 10 Philip House, Honiton Road, Exeter, EX1 3RU