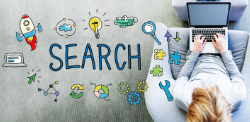 Are you struggling to get your website onto page 1 for your most important keywords? There might be some easy ways you can help your website creep up the organic search results in Google. Here at QSM we've been doing quite a bit of Search Engine Optimisation (SEO) work recently so we thought we'd share our top tips on easy SEO fixes.
Identifying Keywords
What are the keywords which you want your website to appear for? Brainstorm, make a list and check how often these keywords appear on your site. Google wants to show people the most relevant results, so if your website doesn't contain many, or any, references to your key products or services you'll appear much lower down the organic results, or worse, not at all!
Google Keyword Planner
Following on from this theme, make sure you've done your research in Google Keyword Planner. Whilst you might think people are searching for "children's bicycles" and have therefore inserted this phrase lots of times on your website, a quick search in the Keyword Planner will tell you otherwise! The results which come up suggest that the closest popular match for that phrase is "children bicycle" at 880 searches a month, but by far the most popular term is "kids bike" at 33,100 searches a month – that's the phrase which deserves more focus as a website keyword.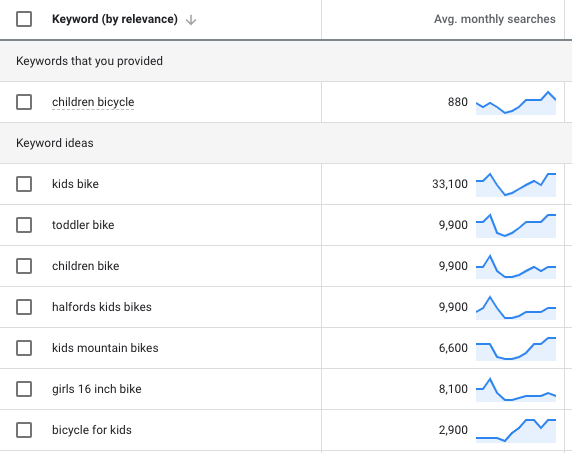 For ideas on what are the most popular search terms used for a certain product, Google Keyword Planner is an essential tool.
Name your Images
You might have lots of images on your website showing products or key offerings, but if the images aren't named in the alt text field, it doesn't matter what they show – they won't be picked up by Google! Although your site visitors can see an image, Google can't, so your image needs to be named in order for it to be crawled and filed by the Google spider.
Meta data
It's also essential to provide accurate and concise descriptions of web page content for Google to understand what the page is about. This needs to be entered in the meta title and description for every page on your website. This information shouldn't be spammy, since what you enter in here will generally appear in the Google search results, but it should contain key information about the product or service you are promoting on that page and ideally some of your main keywords as well.
Well thought out meta data will help to ensure your website appears for your top search terms, as in this search for "social media Exeter".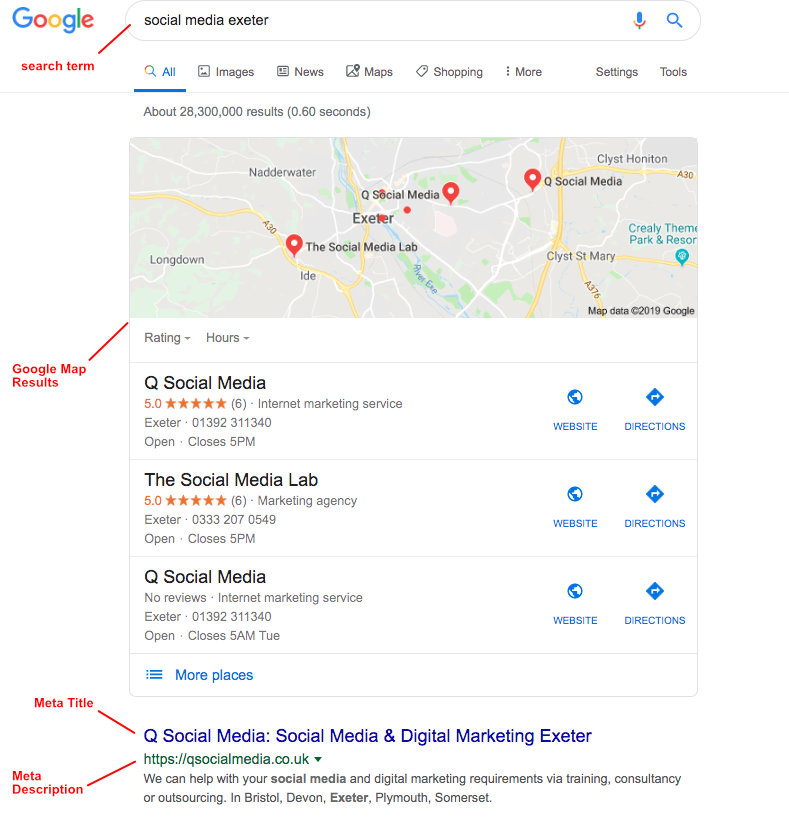 Google My Business
As the above example shows, to make sure your website appears for location based search queries, you need to make sure your website has a fully filled in listing on Google My Business. Often the Google Map results (showing Google My Business info) are listed above the text based search results, so having your business listed geographically on Google My Business could make all the difference in getting it seen.
Whilst there are lots more ways to get your website seen by the people who matter to your business, here we've focused on some more simple fixes. We hope these tips help your business grow. For help with SEO advice or support, get in touch.